Answers

Oct 08, 2021 - 12:00 PM
What is Indexing?
Indexing is the whole process of collecting, parsing and storing web pages (and information about web pages) so that these pages can be retrieved quickly by the User. SCE index pages, images, videos, prices and additional data about a page that allows it to load the data for the end user fast so there is almost no lag.
Typically, prices and data changes show up within 10-15 min of change on the website but if you do a bulk change where the entire store catalog is affected it might take a little bit longer as the products go in a que and you can see how many products are in que in your products dashboard.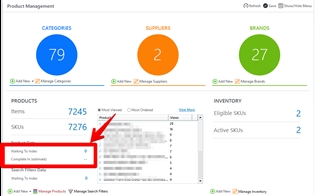 In the case if the product data is not indexed you need to review 2 things that the product is not marked Internal or/and hidden from the front end in this case the product data will never index for the search.
In the Case the data has been indexed and the product is not being found in search and it is also not hidden and not internal then you can reset the search cache so the product will start displaying for search.
To reset the store cache for Search you can go to
online store > Cache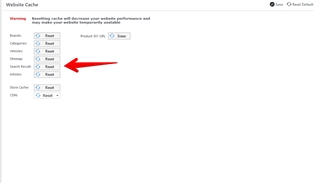 In The Case if your product is not searchable even after you have tried and exhausted all your resources please reach out to a Support tech at SCE in your primary group to assist you in resolving your issue